Warehouse Dock Ramps | Made in the U.S.A.
For heavy tasks, Copperloy has heavy equipment!  Copperloy is the industry leader in custom loading and unloading solutions.  When it comes to warehouse dock ramps, we offer two unparalleled solutions.  First, dock-to-ground ramps.  Dock-to-ground ramps are an ideal, more permanent solution for warehouses.  Second, there are yard ramps.  Yard Ramps are innovative and durable, a solution for warehouses and semi loading.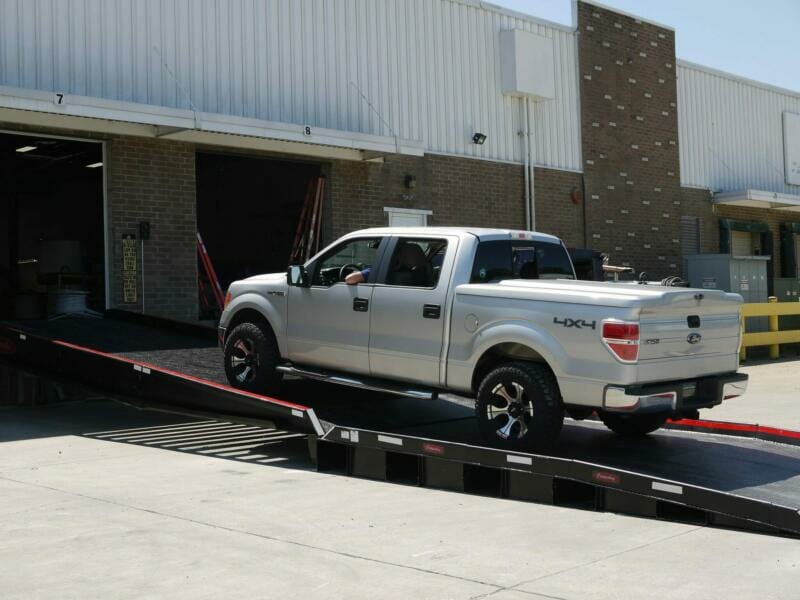 Dock-to-Ground Ramps | Warehouse Dock Ramps
Dock-to-ground ramps are great for material handling.  Efficiently transport freight from grade level to dock height.  Traditionally, dock-to-ground ramps are for long-term, fixed, loading and unloading. Copperloy's warehouse dock ramps can be built to meet custom specifications.  These ramps are versatile, low-maintenance, and durable.  Safe handling highlights include safety chains and brackets to prevent sliding as well as 7″ safety curbs.
Features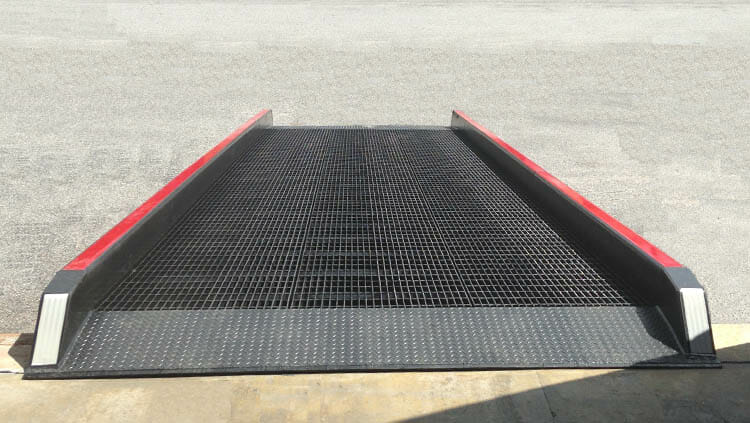 RAMP DESIGN
Open-faced, steel grating allows snow, water, and other debris to fall through. As a result, a high-traction running surface is available throughout varying weather conditions. Dock-to-ground ramps provide an innovative alternative to permanent concrete installations.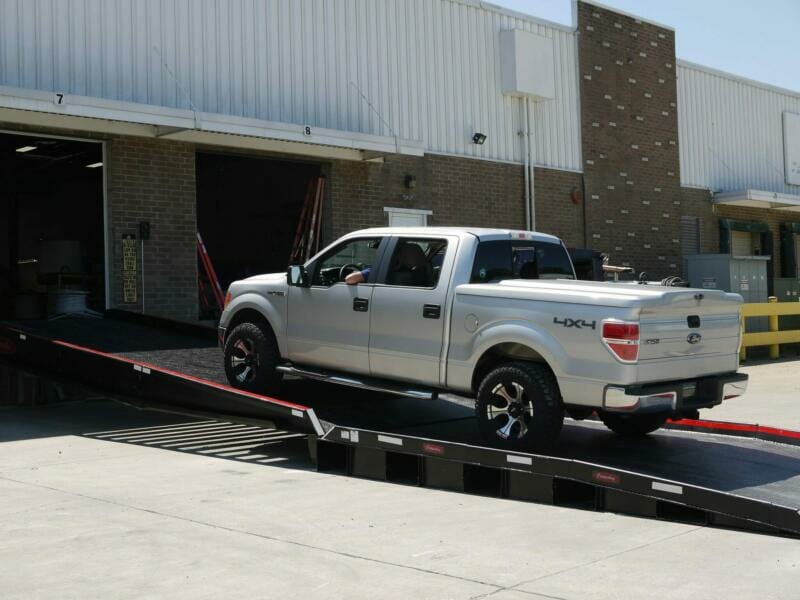 SPECIFICATIONS
These warehouse dock ramps support a wide range of capacities. Additionally, upon request, custom sizes and specifications are available. For example, check out our custom two-piece, extra long dock ramp! Copperloy created this ramp for a unique loading situation.
Widths: Standard widths up to 118″, custom available upon request!
Capacities: 16,000-30,000 lbs.
Yard Ramps | Warehouse Dock Ramps
Yard Ramps are the best mobile solution for ground level access to docks, trucks, containers, and buildings. Create a loading facility without the need for time-consuming construction! Yard ramps handle capacities up to 35,000 lbs.  Additionally, many ramp models are in stock and prepared to ship out the next day.  Copperloy has engineered a heavy equipment loading ramp unlike any other.  Discover the key features below!
FEATURES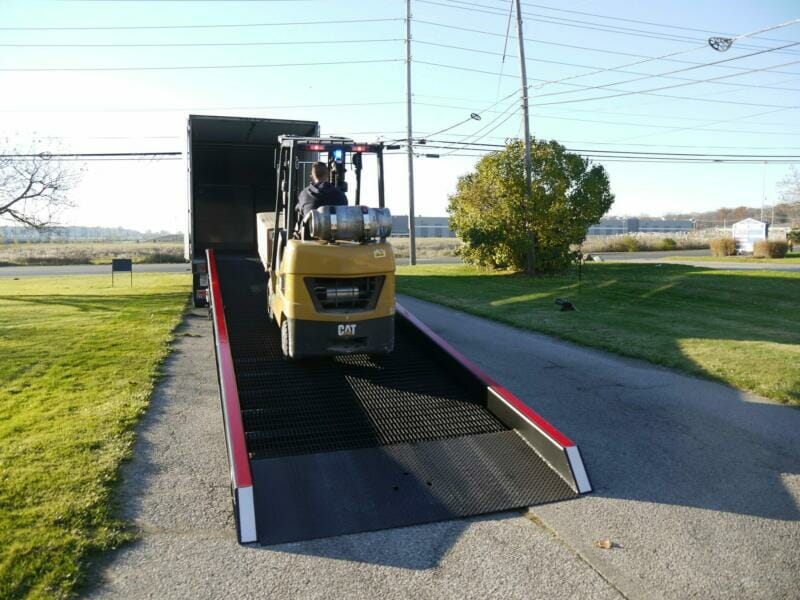 STEEL RAMPS
Lengths: Up to 36′
Heights: Range from 38″-65″
Width: 70″ or 84″
Capacity: 16,000-35,000 lbs.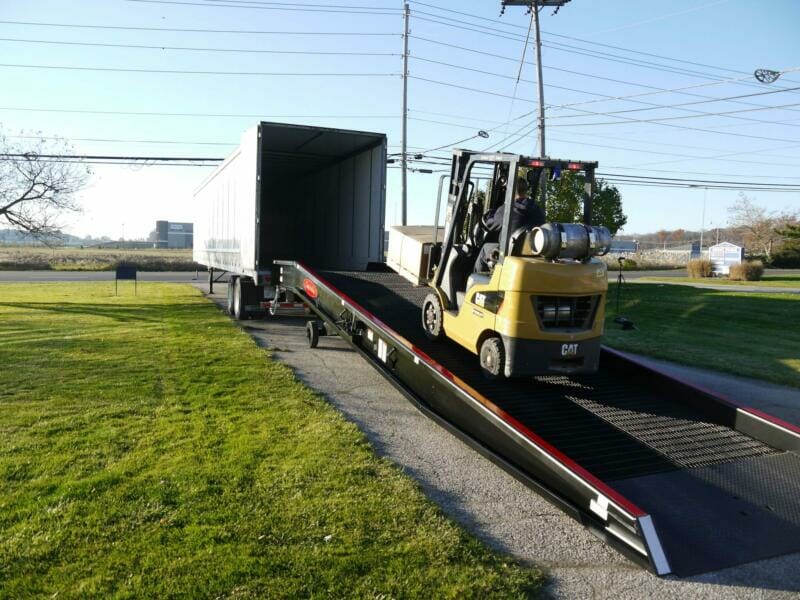 ALUMINUM GROUND-TO-TRUCK RAMPS
Lengths: Up to 36′
Heights: Range from 38″-65″
Width: 70″ or 84″
Capacity: 16,000-25,000 lbs.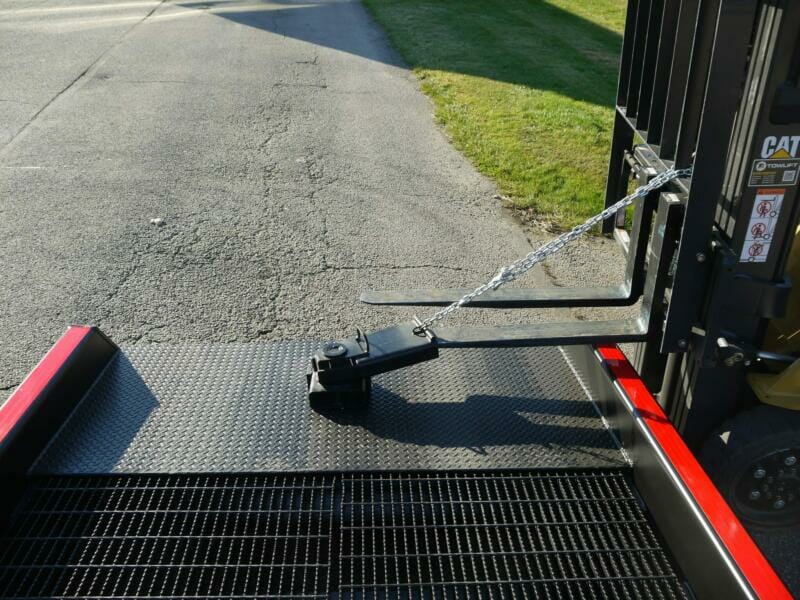 UNIVERSAL TRUCK RAMP FEATURES
7″ safety curbs
18″ solid, pneumatic tires
High-traction, steel grating
Redesigned hydraulic pump for quickest raise times and ease of use
Positioning sleeve for easy alignment
Standard 8′ level off, consult factory for a custom 10′ level off
15″ lip
Optional tow-bar for convenient towing around facilities