Mobile Loading Docks | Save Time & Space
Deciding the most efficient way to load and unload materials can be tricky.  Between busy seasonal shipping months and temporary loading applications, Copperloy has the ideal solution.   Mobile loading docks allow shipments to be transported directly from tractor trailers.  Forklifts can easily make 90-degree turns into a truck or boxcar.  Portable docks solve two common problems.  One, loading bay bottlenecks.  Two, the absence of a loading dock.
Benefits
Portable loading platforms are great for freeing up dock space.  Expand dock capabilities without breaking the budget.  Then, easily relocate.
Create a customizable dock solution without time-consuming construction.  Portable docks are great for parallel loading on carriers or docks.  Engineered from steel,  mobile docks are custom made to fit specifications.  Dock heights ranging from 42″ to 57″ and manage capacities up to 60,000 pounds.
Standard features of each platform include steel grating, movable curb sections, and lift sleeves.  Next, combine two or more loading docks to create a larger platform!  Plus, install edge-of-dock levelers on any of the edges.  As a result, increase the functionality of existing equipment and vehicles.  Last, but not least, high-quality steel construction requires little maintenance and a durable lifespan.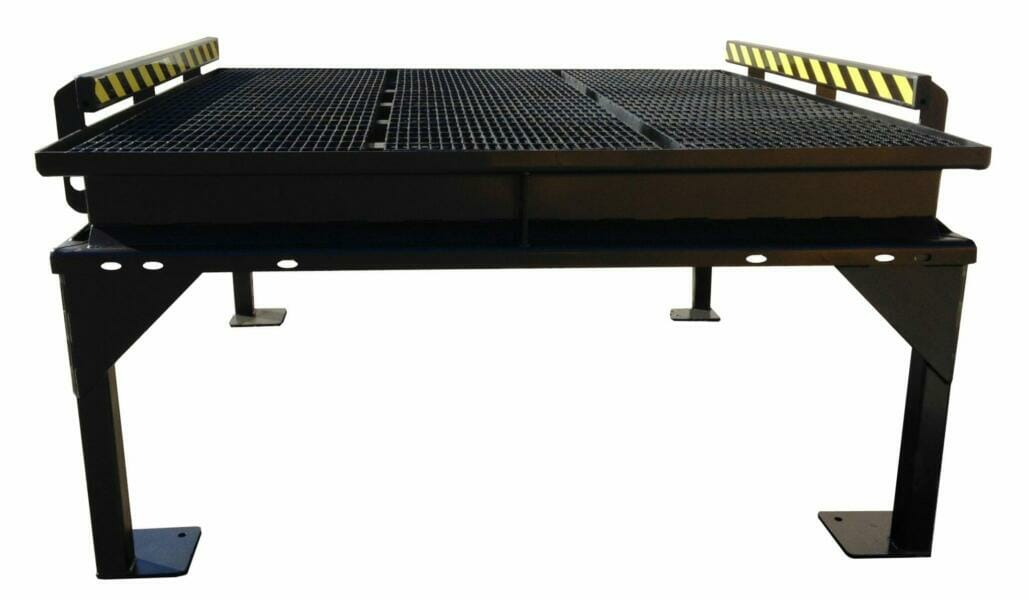 Key Features | Mobile Loading Docks
Safety, durability, and performance are Copperloy priorities. Explore key features below!

Mobile Loading Curbs 
Mobile docks feature 6″ safety curbs to prevent accidents.  Hollow sections and proprietary box frame construction reduces the stress of heavy loads.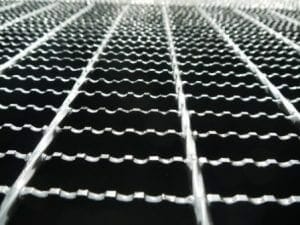 Steel Deck Grating
Mobile loading docks are composed of serrated steel.  Grating bars are 1-3/4″ thick and spaced 1″ apart to allow debris to fall through.  Endure the heaviest of applications and gain all-weather traction with serrated grating.

Lift Sleeves
Lift sleeves put the mobile in mobile loading docks.  Copperloy platforms feature lift sleeves for secure handling and repositioning. Just transport with a forklift!

Handrail Add-On
Split handrails are 42″ high and made of steel.  For additional safety and usability, add handrails to any platform.

Custom Platform Specifications
In-house engineering is one of Copperloy's most significant strengths.  For robust applications, our team of engineers expertly designs the ideal solution.  Contact our team with custom specifications!
The Ideal Combination
Mobile loading docks paired with Copperloy ground-to-truck or yard ramps are the ultimate combination.  Copperloy leads the yard ramp industry. Do you have an open space? Effortlessly transform into a portable loading dock with Copperloy!
Yard ramps are a portable loading dock ramp and an ideal solution.  Move material from ground level to trucks or warehouses.  Copperloy offers both aluminum and steel yard ramps. Different specifications are dependant on weight and application requirements.  Also, rentals are available! Leases are perfect for short-term projects.
Ground-to-truck ramps conveniently provide grade level access to semi-trucks or docks.  Forklifts safely access freight in the back of a truck.  With financing and rental options, Copperloy ensures the most cost-effective solution for loading and unloading tasks.