Heavy Equipment Loading Ramps | Made in the U.S.A.
For heavy applications, we have heavy solutions!  Heavy equipment loading ramps, heavy truck ramps, heavy duty tractor ramps, Lots-a-Ramps has it all.  Lots-a-Ramps leads the industry in custom loading and unloading solutions and has mastered America's ultimate ramp. 
Lots-a-Ramps designs high-value, cost-efficient dock solutions.  Optimize space, push productivity, and increase safety with expertly engineered ramps.  In comparison to competitors' two-cylinder systems, our innovative one-cylinder hydraulic ramp needs less pressure to raise.  Additionally, perks include:
User-Friendly – A conveniently positions pump allows for smooth operation, storage, and maintenance.
Quicker raise times – Position to desired height up to 2 and 1/2 times faster than a conventional ramp.
Limited wear and tear – Wear and tear of the ramp's structure is decreased due to rotation taking place on a redesigned positioning sleeve.  Traditionally, rotation occurs where the ramp connects.
Excellent stability – A centrally located cylinder increases stability and reduces the likelihood of tipping.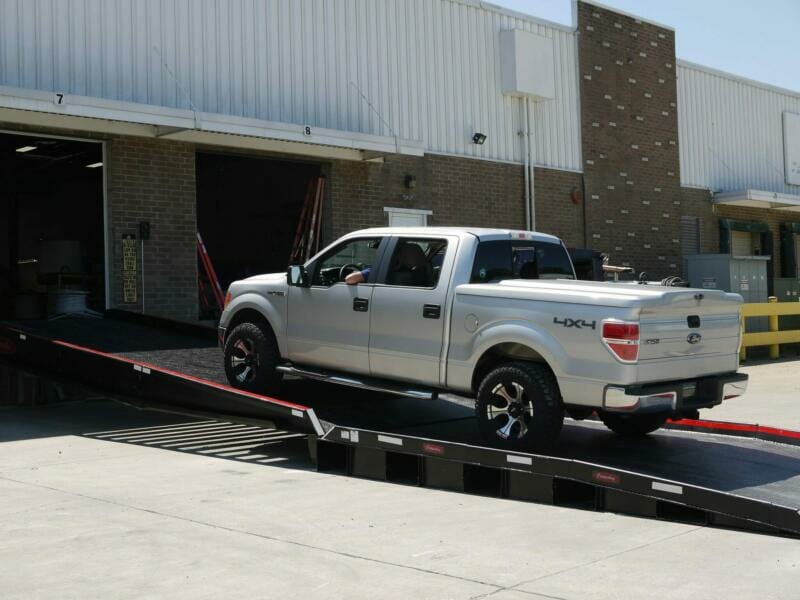 Key Features | Heavy Truck Ramps
For the best mobile solution for ground level access to trucks, containers, and buildings, choose Copperloy.  Instantly create a loading facility without the hassle of construction. Handling up to 35,000 lbs., many ramp models are in stock and prepared to ship out the next day.  Engineered for high-performance, mobility, and enhanced safety, Lots-a-Ramps has crafted a heavy equipment loading ramp unlike any other.  Discover key features outlined below!
8′ Level Off
Forklifts and other unloading equipment have easy access to trucks and docks with an 8-foot level off feature.  Additionally, excellent stability is provided, especially on mobile ramps.
15″ Lip 
To ensure the ramp doesn't pull away, a 15-inch lip sits securely on the platform.  Plus, safety chains are featured on mobile ramps for enhanced securing.
Hydraulic Pump
Raise the ramp with less effort using our single-acting hydraulic hand pump.  For ease of use and maintenance, the pump has been relocated.  Also, the unique location guards against dirt, debris, and damage.
Low End Plate & Deck Grating 
A low end plate enables front driving tires to connect with high-traction deck grating while the rear tires remain in contact with the ground.  Constructed for durability and the toughest of applications, Lots-a-Ramps ramps feature grating bars.  Designed with high-strength steel, the bars are spaced 1-3/4″ apart to allow snow, rain, and debris to fall through.  Lastly, the grating is serrated to provide a high-traction surface in all weather.
Positioning Sleeve for Heavy Equipment Loading Ramps
Effortlessly maneuver the ramp 180 degrees with the positioning sleeve feature.  As a result, increase productivity with reduced loading and unloading time. Just slide a fork of the forklift into the sleeve and align into the desired position!
Towbar
An add-on feature on steel and aluminum mobile ramps, the towbar fastens to the lower end of the ramp.  Conveniently move the ramp short distances within your facility with the tow bar.
18″ Pneumatic Tires
Solid filled, 18-inch pneumatic tires dominate rugged terrain.  The tires do not require air to fill, eliminating the chance of punctures and air pressure issues.  Lubricated-for-life bearings, pneumatic tires are maintenance free!
Safety Curbs
Safety is one of our top priorities.  To prevent an incident, 7-inch safety curbs are a standard feature on all Lots-a-Ramps ramps.
Smooth Side Plates
In addition to enclosing all working components, smooth side plates also guard against possible damage caused by other equipment.
Heavy Equipment Loading Ramps | What's the Use?
Ground-to-truck ramps conveniently allow ground level access to semi-trucks. Lots-a-Ramps ramps ensure for maximum safety and productivity.  Heavy equipment loading ramps were engineered with industrial use in mind.  Based on material handling requirements, ramps are available in aluminum or steel bases.
Quickly and easily transform an open yard space into a portable loading dock.  Lots-a-Ramps ramps are a safe, efficient solution to load and unload materials.  Forklifts can easily access freight in the back of a truck.  Lots-a-Ramps provides financing for ramp purchase and rental options, ensuring the most cost-effective solution to increase capabilities and production.
Finding the Right Ramp: Heavy Duty Tractor Ramps, Truck Ramps, and More!
Choosing the right ramp depends on the application.  From heavy duty steel truck ramps to mobile ramps, the options are endless.  Take these questions into consideration:
Are you looking for a permanent loading area or do you require a portable loading ramp?
What is the maximum weight, including the weight of the truck, that your lift trucks will be transporting?
Do you require dock-to-ground access or ground-level access to railcars and trucks?
After answering these questions, consult with our experienced staff.  Lots-a-Ramps has been manufacturing ramps for over 60 years.  Our knowledgable team members will be glad to help find the best solution for you!
For more information on the benefits of our yard ramps or loading ramps, contact Lots-a-Ramps today.
Copperloy's American-made products are unsurpassed.  Manufactured by experienced machinists, certified welders, and automated robotic cells, our ramps are built for durability and made to last.
What sets Lots-a-Ramps apart from the competition? See for yourself in the video below.