No Loading Dock? No Problem. | Portable Loading Docks
Avoid the hassle of construction and create a customizable dock solution with Copperloy portable loading docks.  In limited space or where no permanent facility exists, portable docks are great for parallel loading on carriers or docks.
Engineered from steel,  docks are custom made to fit your specifications with heights ranging from 42″ to 57″ and capacities up to 60,000 pounds. Side plates are made from A572-50 steel, ensuring further durability.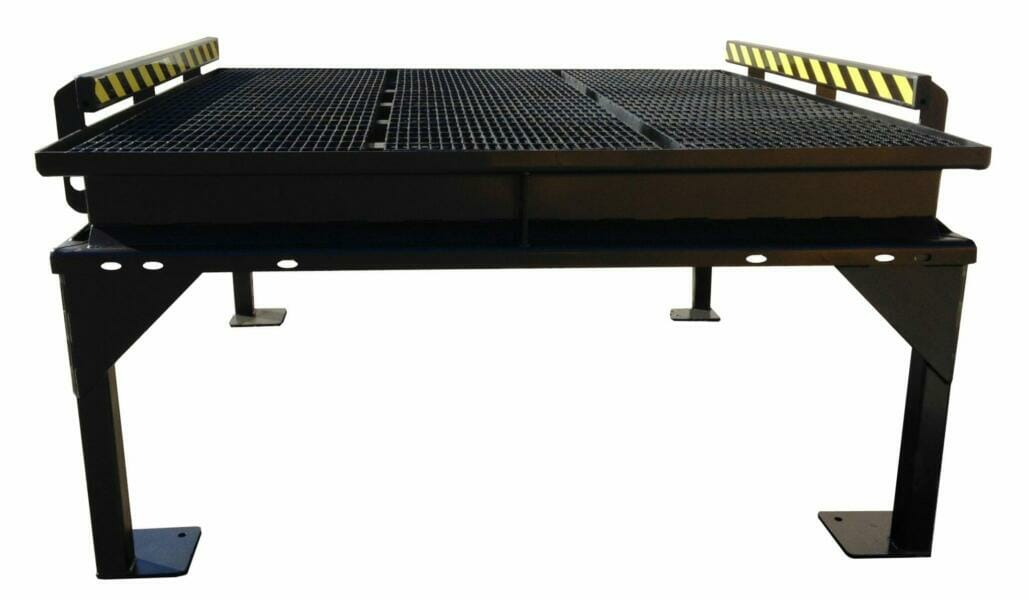 Copperloy Loading Dock Equipment | Made in the U.S.A.
Copperloy is the solutions for high-quality, long-lasting, and innovative dock equipment.  Our portable docks have many benefits.
First, two or more loading docks can be secured together to create a larger loading dock.   Next, the standard features of each platform include steel grating, movable curb sections, and lift sleeves for easy handling.  Additionally, edge-of-dock levelers can be installed on any side of the platform.  As a result, this ensures added functionality to existing equipment and vehicles.  Last, but not least, high-quality steel construction offers limited maintenance and maximum lifespan.
Key Features | Portable Loading Docks
Copperloy is a step above the competition.  Safety, durability, and performance are top considerations. Designed to be mobile, portable loading docks include essential features that maximize mobility and usability.  Discover key features outlined below!

Platform Curbs 
The portable loading dock's 6″ safety curbs prevent incidental runoffs.  Designed with exclusive hollow sections and proprietary box frame construction, the stress of heavy loads and the extra strain of cargo breakouts are reduced.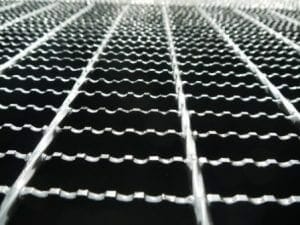 Platform Deck Grating
Mobile loading platforms are constructed with electro-forged serrated steel.  Providing superior strength, grating bars are 1-3/4″ thick and designed to endure the most taxing of applications.  Spaced 1″ apart, grating bars resist buildup of debris and provide high-traction for an all-weather running surface.

Lift Sleeves
What good is a portable platform if it isn't actually easy to move?  Copperloy dock platforms are designed with lift sleeves for that exact reason.  Lift loops provide easy handling and repositioning with the simple help of a forklift.

Portable Steel Platforms 
Steel platforms come in lengths up to 12 feet and handle capacities up to 60,000 lbs.  Though heavier and require forklifts to move, steel platforms endure higher capacities.  Call the factory to discover portable steel platform specs.

Handrail Add-On
42-inch high, split handrails are engineered in all steel.  Add handrails to any platform for extra safety and convenience.

Custom Platform Specifications
An in-house engineering team expertly designs custom platforms.  Unique problems are no match for Copperloy!
The Ideal Combination
Combine mobile platforms with Copperloy ground-to-truck or yard ramps for the ultimate combination.  Copperloy ramps assure maximum safety and increased productivity when loading and unloading freight.  Transform an open space into a portable loading dock fast and effortlessly with Copperloy ramps!
Yard ramps function as a portable loading dock ramp and an ideal solution.  Transport material from grade level to trucks or warehouses with yard ramps.  Copperloy offers both aluminum and steel yard ramps depending on weight and application requirements.  Rentals are available and perfect for short-term plans.
Ground-to-truck ramps conveniently allow ground level access to semi-trucks or docks.  Forklifts can easily access freight in the back of a truck.  Plus, Copperloy provides financing for ramp purchase and rental options.  In turn, ensuring the most cost-effective solution to increase capabilities and production.
Copperloy products are Made in the USA.  Engineered by expert machinists, certified welders, and automated robotic cells, Copperloy ramps are built to last.
Watch the video below to learn what differentiates Copperloy from the competition.