Box Trailer Ramp | Copperloy Dock Equipment
Copperloy® offers a space-efficient box trailer ramp that safely and efficiently simplifies loading tasks.  Leading the industry in custom fabrication, Copperloy manufactures America's ultimate ramp.  In addition to our industry-leading ramp, Copperloy also produces a lineup of dock plates and dock boards.  Combine our powerful loading dock equipment to create a space, time, and energy efficient loading solution.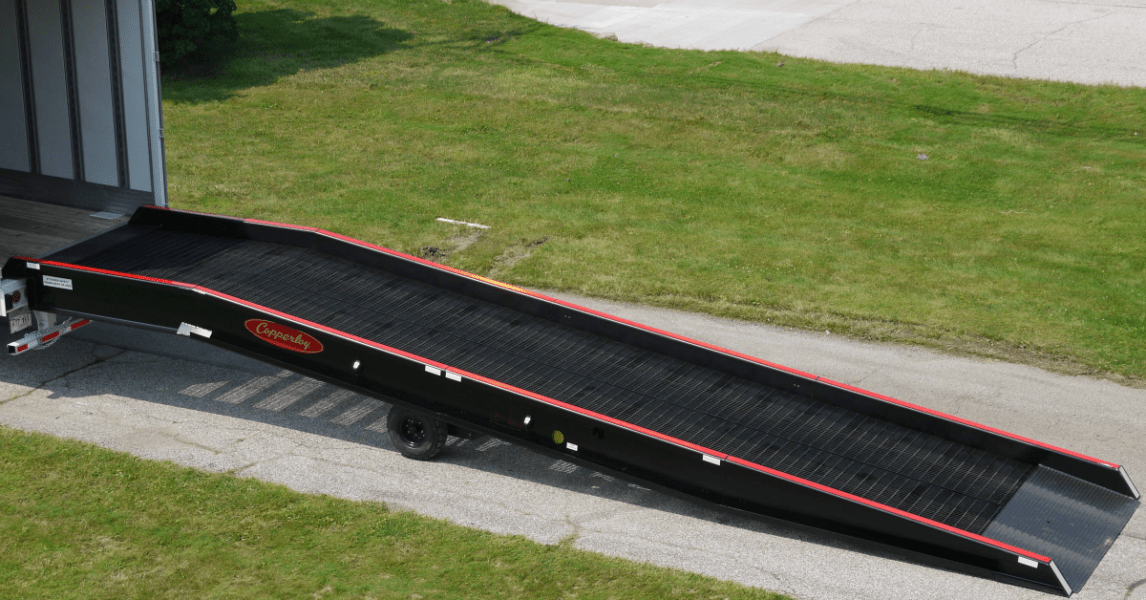 The Yard Ramp: Truck-to-Ground Access
Copperloy yard ramps, also referred to as box trailer ramps, provide ground level access to semi-truck beds. Designed with industrial use in mind, these ramps are available in aluminum or steel bases.  We also offer custom specifications upon request!
Transform an open space into a portable loading dock with Copperloy products.  Our ramps vary in capacity, allowing forklifts to easily enter the back of a semi to unload diverse materials.  Plus, Copperloy provides financing for new ramp purchase along with rental and certified pre-owned options on any of our box trailer ramps.
Benefits & Features | Box Trailer Ramps
Copperloy differentiates ourselves from competitors by offerings benefits that are custom to our designs.  Most noteworthy,  our box trailer ramps operate off of a single-hydraulic system.  Typically, standard ramps work using a two-cylinder hydraulic system.  As a result, Coppelroy ramp rise times are up to two a half times faster than competitors!   Check out extra benefits below.
User-Friendly
We relocated the hydraulic pump with our latest redesign.  Now, operation and maintenance are more accessible than ever!  Plus, when not in use, the pump is protected from damage and debris.
Decreased Wear and Tear
The pump location isn't the only change in our redesign.  Now, with an innovative positioning sleeve, the ramp can easily rotate for proper placement.  Traditionally, rotation occurs at the ramp connection.  Alternatively, rotation at the sleeve reduces wear and tear on the structure of the ramp.  Plus, as a leader in metal fabrication, our products are built for durability and made to withstand heavy demands.
Safety Features
Safety is a principal focus at Copperloy, and our features support that.  A centrally located cylinder alters the center of gravity and dramatically reduces the likelihood of tipping. Next, a 15″ lip and safety chains assure secure attachment to the loading platform.  Then, steel grating and safety curbs provide all-weather traction while preventing the chance of accidental runoffs.  Lastly, our 8-foot level-off allows forklifts to access cargo in semi truck beds or loading docks easily.
Mobility
These ramps are easily adjusted and transported.  First, transport the ramp across the facility using the added tow-bar.  Then, align the ramp appropriately with the loading platform using the positioning sleeve!  Yet to mention are the maintenance-free, 18″ solid filled, pneumatic tires.  Dominate terrain without concern of punctures or air pressure!
Tractor Trailer Ramps | Copperloy v. The Competition
Want to see how Copperloy measures up to the competition?  Check it out in the video below.