Buy Michigan Yard Ramps Today with Copperloy USA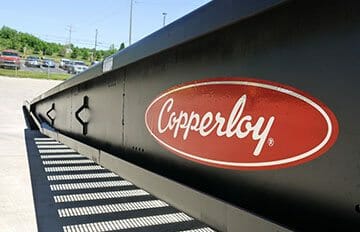 Copperloy's high-quality loading dock equipment is available from dealers throughout the state of Michigan, including Lansing, Grand Rapids and Ann Arbor. Our distributors can supply your facility with heavy-duty loading dock ramps or custom steel manufacturing to match a unique challenge at your operation.
Our local suppliers of yard ramps can help you create a loading dock where none exists with a portable loading dock, or allow vehicles to easily travel from grade level to dock height with dock-to-ground ramps.
We also have decades of experience with custom steel manufacturing. Everything is proudly made in the USA with our state-of-the-art facility and equipment, and our expert engineers and machinists can tackle any challenge.
The Ultimate Dock Ramps
At Copperloy, we produce a wide range of different loading dock equipment and loading solutions. We carry an in-depth collection of ramps, such as portable yard ramps, dock-to-ground ramps, truck and forklift ramps, and more. Whether you're in Lansing, Grand Rapids and Ann Arbor, we have you covered.
All of our products are available in different models, with varying sizes and capacities. Made from the strongest steel and other quality materials. Even when it's snowy, wet, and unbearably cold, our gear will prove to be durable and help you continue being at your best.
Our mobile, or portable yard ramps give the forklift easy access to trucks and loading docks alike. Since they are easy to maneuver they can be useful in most loading and unloading conditions, especially whenyou don't have the room and a truck can't access the loading dock.
Why choose Copperloy for your Michigan Yard Ramps
Copperloy's Made in USA Michigan yard ramps are the ultimate solution to all of your loading and unloading needs. Portable yard ramps allow you to turn any area into a safe, efficient loading area for your unique applications. Copperloy also provides new and used options when purchasing Michigan yard ramps. 
All of our heavy-duty Michigan yard ramps are constructed of steel for superior strength. Grating bearing bars are thick for durability in the roughest of applications. Bars are spaced 1″ apart to resist clogging of debris and to ensure an all-weather high traction running surface.
(Standard on all mobile ramps). Premium 23″ tires, ideal for use in most applications. Air inflated tires create a cushion effect on irregular or bumpy surfaces. Solid Filled Tires- (Option on all mobile ramps) Ideal in applications where sharp debris could puncture a pneumatic tire.
(Standard on steel container ramps). Provides dependable means of positioning the ramp into place from one truck to another. When not in use the sleeve is conveniently stored on the side of the yard ramp. Not intended for long-distance towing.
Find Your Dealer Today – Call 800-321-4968
With Copperloy on your side, your business will be more productive, more efficient,  more profitable more capable, and much safer. Call 800-321-4968 to learn more about our loading dock equipment and to get started today.